ABOUT US
COLUMBUS COLLISION CENTER - QUALITY COLLISION REPAIR
The technicians at Columbus Collision Center have over 60 years of combined experience. They are dedicated to providing the highest quality collision repairs to keep your family safe and return your vehicle to pre-crash condition. All of our technicians are both I-Car trained and ASE certified in the industry's most up-to-date techniques.
From the time your vehicle arrives at our facility, our technicians use their training and expertise to diagnose and estimate the exact needed repairs for your vehicle's specific year, make and model. This process begins with the technician completing an initial post-accident inspection of your car. The same technician will follow your specific car throughout the entire repair process.
Finally, they will prepare the vehicle for a quality-control inspection with a member of management before the vehicle is ever released back to you.
Our entire staff is dedicated to the highest quality standards!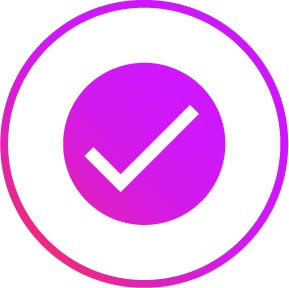 Out N About Columbus - Advantages of a Female Owned Auto-Body Shop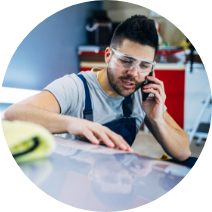 TRANSPARENT COMMUNICATION THROUGHOUT THE REPAIR PROCESS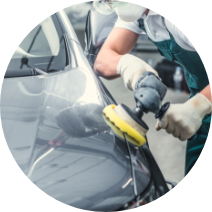 INDUSTRY'S MOST UP-TO-DATE REPAIR TECHNIQUES & PROCEDURES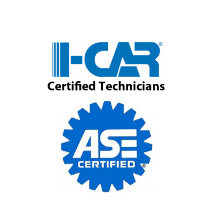 I-CAR TRAINED
& ASE CERTIFIED
TECHNICIANS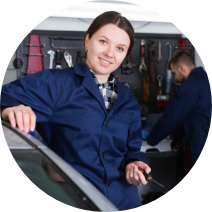 FAMILY ATMOSPHERE, WHERE CUSTOMERS BECOME FAMILY MEMBERS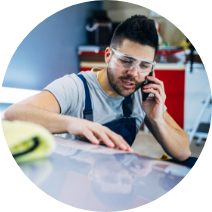 TRANSPARENT COMMUNICATION THROUGHOUT THE REPAIR PROCESS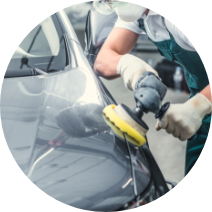 INDUSTRY'S MOST UP-TO-DATE REPAIR TECHNIQUES & PROCEDURES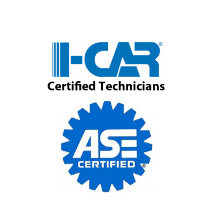 I-CAR TRAINED & ASE CERTIFIED TECHNICIANS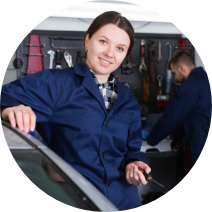 FAMILY ATMOSPHERE, WHERE CUSTOMERS BECOME FAMILY MEMBERS
WHAT OUR CUSTOMERS ARE SAYING
Woman owned makes the difference! I've never been to a body shop where the staff were so professional, educational without being condescending, and genuinely so, so kind. With $14k in damages to be repaired, CCC put the time and effort into my vehicle needed to make it look and drive like brand new. They kept me informed throughout the entire process and made sure I fully understood what was being done. And they paid my deductible! I cannot recommend Debra and the rest of the CCC team enough.

My daughter was in a horrible accident (not her fault)! I could not be more pleased with the quality of support and help that I received through this nightmare! I would most definitely refer this company!

Ashley was very helpful and attentive. Never accepts anything but the best with your car and I appreciate that very much. Would recommend to anyone needing body work done!

Positive: Professionalism, Punctuality, Quality, Value

Extremely helpful and they do quality work. I was very pleased with the professionalism and service I received. I would definitely recommend and bring any future business to them.

Positive: Professionalism

Ms. Debra is Amazing. She walked me through every step of the process to get my car fixed. And continued to help once my car was totalled and the company would not even profit from my claim. Thank you so much for all the help and amazing advice. I would definitely recommend Columbus Collision Center to anyone who asks. Outstanding costumer service. Kind and Caring People. KUDOS

Positive: Professionalism, Quality, Value

Ashley is amazing! You can tell she's really big on customer service. Our car was ready and fixed but she wanted to make sure all the dust and extra gunk was all cleaned up so it took a little longer for our car to be brought out to us. Ashley treated our family to breakfast to make up for the wait! I appreciated her attention to detail and taking pride in returning our car to us better than it looked when we took it in. Debra and Amber are so sweet and helpful. If you're looking for honest, quality work I would definitely recommend them.

Positive: Professionalism, Punctuality, Quality, Value

Ashley was extremely helpful from explaining the process of evaluation and being thorough in what I can expect. The shops communication was all incredibly professional and frequent. Any time I had questions I was always able to reach someone and get them answered timely. The shop worked closely and professionally with the insurance company to ensure as little stress and work for myself as possible. The team worked closely with me via email as during COVID quarantine in person was more challenging. They were able to ensure a time for me to pick up personal belongings from the car in a manner and time that was considerate of my safety and social distancing. I have had many shops in Columbus do work for me prior, but never felt like any care the way this shop did. I would return to this shop for any and all future needs!

Positive: Professionalism, Punctuality, Quality, Value

From start to finish, Columbus Collision was extremely professional and efficient. When it came to speaking to my adjuster, Debra was more than willing to call alongside me to make sure we got the answers we needed. Unfortunately, my accident happened during a bad snowstorm, and so many cars were coming in that needed extensive repairs. The repair process took several weeks, but during those weeks the members were CONSTANTLY updating us on any changes, extensions or problems occurred. They were never once unprofessional or unclear about anything that was happening. I was extremely happy to be kept in the loop from the beginning of the process to the end. Debra also always encouraged us to call any time we wanted an update or "missed our car", which was absolutely appreciated if we needed an update for any reason. Give them a chance!!

Positive: Professionalism, Punctuality, Quality, Value

I was involved in a wreck with my 2020 Honda civic not long ago. Luckily a friend I work with recommended me to this place to get everything together. Walking in the collision center, Ashley met me at the door as if the world revolved around me. This being my first time in this kind of situation, this place definitely made me feel comfortable and made everything so easy. 10 stars if it was possible. Car is back better than before THANK YOU!

Debra was great to work with. Highly recommend Columbus Collison Center for you next repair. Family owned business so customer service is valued. Thanks again

Positive: Professionalism, Quality, Value

I will do all my body work here from here on out. Fantastic work and excellent to work with! Female owned and amazing! Would highly recommend!!

Stopped for an estimate. Excellent service so far. Very informative and helpful staff.

Positive: Professionalism, Punctuality, Quality, Value

So I recently got my rear passenger quarter panel smash at the grocery store and the guy had no insurance...I was frantic about what to do next as this was a first for me. A buddy of mine told me about a shop on high street ran by a knowledgeable, about-her-business women who could for sure help me. I gave them a call to find out some info and the owner was extremely thorough and transparent about the process that would take place. No one ever informed me that it's my right as the vehicle owner to decide were my car is repaired until Ashley (The owner) explained it to me. That was a huge help in making a decision. The work was nothing short of factory quality and done in just a few days! If you want an authentic, respectful company to handle your car, look no further than Columbus collision centers! Thank you again all! -Eric

Worked closely with me in unique times during the pandemic. I like that it's a female owned business in a Male dominated industry. Ashley (owner) and Amber (front desk) were great. Met Bryan who explained everything to me and was quite complimentary and knowledgeable. I made a great choice for my auto body repair need.

I recently took my 2017 C-Class Mercedes here and I LOVED the customer service I received. I worked with Ryan, who was not only super attractive, but he was so helpful and patient with me the entire time. Everyone there was nice but Ryan really stood out to me. He was so nice! And My vehicle came back immaculate, so clean and just like brand new. Ryan even got me a free detail!! Would definitely recommend this place.

Columbus Collision is a family owned business which we love to support . Had an accident and from the first phone call they were very compassionate and helpful through the whole process along with insurance , while being out of state . They made the the process very easy with no stress . They kept in communication and even did a pick up to our house . The car came out beautiful and looked brand new. I would recommend to all.

Positive: Professionalism, Punctuality, Quality, Value

Had a terrific experience with CCC. They picked up my car from the impound lot (due to an accident), got it to the shop and kept me informed throughout the repair process. Professional, courteous and they even cleaned and waxed it for me! It looked better than it's looked in years. Thanks so much.

Really nice people and helpful

Positive: Professionalism

Columbus Collision Centers was totally awesome! I hardly even talked to insurance or the rental company. Deborah was sorry super cool!

Positive: Professionalism, Punctuality, Quality, Value

Best Auto-body shop I've been to! Everyone is so nice and made me feel comfortable that my car was going to get fixed correctly (other body shops have painted my whole bumper a different color before so I was nervous) but Columbus Collision is absolutely amazing! My metallic silver car paint is hard to match but they did phenominal. You can't tell there was ever even a dent or scratch on my car. Stunning and perfect work and paint. They are professional and quick. Answered all the questions I had with a smile, and the FEMALE owner is incredible!! #girlpower and great service. You can't beat it! I highly recommend coming here.

I had some questions regarding a car I needed fixed. I had asked around and got good feed back about Columbus Collision Center. I made a call and spoke to "Ashley" and she was very knowledgeable and helped to provide the answers I was looking for. The customer service was amazing. Great job to everyone who works there. I highly recommend.

Great Experience! Kristin was extremely helpful, knowledgeable, and friendly! Ashley was also very helpful in answering any additional questions/ concerns! Everyone was friendly and helped me to save a lot of money with my repairs. I would recommend/ have recommended to several of my friends.

It was a pleasure working with Stephanie and Columbus Collision Centers. The work they did on my car looks amazing and the time it took them to complete the service work was very timely. I would highly recommend anyone take their vehicle to them and experience outstanding service like I did.

When your car has maintenance issues and needs any kind of attention, it creates so much stress and inconvenience until the problems fixed. BUT, even with a car full of defects and a frown on my face, Ryan, from Columbus collision centers knows how to turn my day around and get the job done, AND put a smile on my face too. We are so grateful for Ryan and the hard work he does, his customer service is impeccable and for that reason we will definitely be back to Columbus collision centers anytime our car has issues! Thanks Ryan!

I recently had my car detailed, and the work was flawless, and the customer service guy Ryan, real class act. Friendly, professional, and an unrivaled eagerness to help.

Top of the line body shop with a great atmosphere. Amber handled everything professionally. They worked on a GMC Acadia my wife has and we are definitely satisfied.

I overall had a great experience with this body shop. Amber was very nice she setup my car rental and always returned my call. Ashley was great she would answer any questions or concerns I may have, also had good chats with her as well. My repair turned out great, I couldn't ask for more.

Positive: Professionalism, Quality

I was rear ended the Saturday after my pops past . Debra helped me contacted the insurence company . Took care of everything for me . She was such a blessing in a hard time .

The staff of Columbus Collision Centers went out of their way to help my family and me after an automobile accident. The owner dealt with my insurance company and made sure they were being fair. She also set up a rental car for us during the duration of time my car was being repaired. The work on the car was top-notch. We highly recommend this company to anyone looking for body work on their automobile.

Amber was a blessing through my whole experience! She kept me informed and was always on top of things. My car was towed there for free...sat for a week and a half while we tried to figure out insurance issues...then when it was finished sat for another 4 days before I could pick it up....they did not charge me storage. I must admit I was skeptical at first but soooo glad I chose Columbus Collision Center! My car had less than 3,000 miles on it and looks brand new again!

Columbus Collision Centers did the repairs on my 2017 Infiniti G35. My experience with them was superb. First the customer service, Amber was talking me through the entire way of the repairs. She was very friendly, and even talked to the other individuals insurance company for me so that I didn't have too. If I didn't have another individual helping me with my vehicle the way she did I don't know what I would have done. Also Ashley the owner of the shop was also very great. She let me get to know her on somewhat of a personal level so that I was more comfortable in letting them fixing my vehicle. She let me know that she recently had taken full ownership of the shop from her fiance? or boyfriend? And I have to say she is doing a fantastic job. And than finally, the repairs of my vehicle. The color matched completely, and I got my car back in the exact way I purchased it. I will now be bringing all my vehicles there in the future, god forbid anything else happens, and I will deffinitally be suggesting this place for my family and friends! Thanks Columbus Collision Centers!

Phenomenal people and business. Work was amazing and on time. The best customer service I have ever experienced!

Great and helpful place, made the whole scary process so easy for me! Especially Ryan, great help.

First time at the shop. I will definitely return. The place had an almost family-type atmosphere. The shop owner, Ashley, patiently and painstakingly walked me through the entire process of dealing with the insurance company and through the various steps of the body repair process. Just when I thought the experience couldn't be better, they relinquished my car back to me. The work they did was AWESOME! The body guys made it look exactly like it looked on the showroom floor. The paint job may actually be better! CCC made what could've been an awful experience just another daily one. I will return and highly recommend the place to anyone needing any type of body work.

I want to thank you all for the great job you did on my car. I can't even tell it was wrecked. Customer service was awesome. Theresa went above and beyond to help me. I highly recommend them.

Positive: Professionalism, Punctuality, Quality

Debra helped me through everything and I my 2019 Jeep was delivered on time and it looked brand new, again.

We were greeted promptly. Also, they were very friendly, courteous, and professional.

One of the best auto body shops around. Amazing customer service with regular updates and everyone in the body shop is experienced in their trade. I took my care here for a repair and will continue to take it back for regular maintenance. Thanks Columbus Collision!

Great customer service, great communication and great work. I will be back if I ever get into another crash! Thanks team!

Stephanie provided 5 star service from the first call with the insurance setting up my rental with enterprise during the entire process of my collision repair. Outstanding Professionalism throughout call.I was very satisfied with the repairs that was done on my 2018 Hyundai Elantra looks brand new again. Thanks a bunch would recommend them to anyone.

I recently wrecked my mother in laws car in Columbus... I heard about columbus collision center... I worked w a guy named ryan in customer service who was a HUGGEEE help! Kudos! He got me a rental car the same day!!! Had the car back In 3 weeks looking brand new!

I had already had my car at another preferred shop.I received a call from Amber who explained to me what they would do and that I didn't have to use a preferred shop. She was clearly on my side and not the insurances side. They went and picked my car up from the currant shop and took back to their shop where my car was considered a total loss. Made it very easy for me to go and clean out my car and sign a release to the insurance. I will definitely remember their outstanding service and will use them in the future...

My car looks great thank you every time i called they had answers and as soon as they received my check from my insurance company they got my car done very quick!!! My car looks good as new

I brought my Mercedes here a month ago .From first contact..customer service fantastic. Clear concise communication and the actual work and repair to my vehicle superior. Highly recommend this business !

Did an awesome job! They helped me through the whole claim process and my car looks great. Thanks!

Great Experience! Great work on my Vehicle! Excellent Customer Service with Ryan and Amber. A+++
WHAT OUR CUSTOMERS ARE SAYING
(SWIPE LEFT OR RIGHT TO VIEW MORE REVIEWS!)
Woman owned makes the difference! I've never been to a body shop where the staff were so professional, educational without being condescending, and genuinely so, so kind. With $14k in damages to be repaired, CCC put the time and effort into my vehicle needed to make it look and drive like brand new. They kept me informed throughout the entire process and made sure I fully understood what was being done. And they paid my deductible! I cannot recommend Debra and the rest of the CCC team enough.

My daughter was in a horrible accident (not her fault)! I could not be more pleased with the quality of support and help that I received through this nightmare! I would most definitely refer this company!

Ashley was very helpful and attentive. Never accepts anything but the best with your car and I appreciate that very much. Would recommend to anyone needing body work done!

Positive: Professionalism, Punctuality, Quality, Value

Extremely helpful and they do quality work. I was very pleased with the professionalism and service I received. I would definitely recommend and bring any future business to them.

Positive: Professionalism

Ms. Debra is Amazing. She walked me through every step of the process to get my car fixed. And continued to help once my car was totalled and the company would not even profit from my claim. Thank you so much for all the help and amazing advice. I would definitely recommend Columbus Collision Center to anyone who asks. Outstanding costumer service. Kind and Caring People. KUDOS

Positive: Professionalism, Quality, Value

Ashley is amazing! You can tell she's really big on customer service. Our car was ready and fixed but she wanted to make sure all the dust and extra gunk was all cleaned up so it took a little longer for our car to be brought out to us. Ashley treated our family to breakfast to make up for the wait! I appreciated her attention to detail and taking pride in returning our car to us better than it looked when we took it in. Debra and Amber are so sweet and helpful. If you're looking for honest, quality work I would definitely recommend them.

Positive: Professionalism, Punctuality, Quality, Value

Ashley was extremely helpful from explaining the process of evaluation and being thorough in what I can expect. The shops communication was all incredibly professional and frequent. Any time I had questions I was always able to reach someone and get them answered timely. The shop worked closely and professionally with the insurance company to ensure as little stress and work for myself as possible. The team worked closely with me via email as during COVID quarantine in person was more challenging. They were able to ensure a time for me to pick up personal belongings from the car in a manner and time that was considerate of my safety and social distancing. I have had many shops in Columbus do work for me prior, but never felt like any care the way this shop did. I would return to this shop for any and all future needs!

Positive: Professionalism, Punctuality, Quality, Value

From start to finish, Columbus Collision was extremely professional and efficient. When it came to speaking to my adjuster, Debra was more than willing to call alongside me to make sure we got the answers we needed. Unfortunately, my accident happened during a bad snowstorm, and so many cars were coming in that needed extensive repairs. The repair process took several weeks, but during those weeks the members were CONSTANTLY updating us on any changes, extensions or problems occurred. They were never once unprofessional or unclear about anything that was happening. I was extremely happy to be kept in the loop from the beginning of the process to the end. Debra also always encouraged us to call any time we wanted an update or "missed our car", which was absolutely appreciated if we needed an update for any reason. Give them a chance!!

Positive: Professionalism, Punctuality, Quality, Value

I was involved in a wreck with my 2020 Honda civic not long ago. Luckily a friend I work with recommended me to this place to get everything together. Walking in the collision center, Ashley met me at the door as if the world revolved around me. This being my first time in this kind of situation, this place definitely made me feel comfortable and made everything so easy. 10 stars if it was possible. Car is back better than before THANK YOU!

Debra was great to work with. Highly recommend Columbus Collison Center for you next repair. Family owned business so customer service is valued. Thanks again

Positive: Professionalism, Quality, Value

I will do all my body work here from here on out. Fantastic work and excellent to work with! Female owned and amazing! Would highly recommend!!

Stopped for an estimate. Excellent service so far. Very informative and helpful staff.

Positive: Professionalism, Punctuality, Quality, Value

So I recently got my rear passenger quarter panel smash at the grocery store and the guy had no insurance...I was frantic about what to do next as this was a first for me. A buddy of mine told me about a shop on high street ran by a knowledgeable, about-her-business women who could for sure help me. I gave them a call to find out some info and the owner was extremely thorough and transparent about the process that would take place. No one ever informed me that it's my right as the vehicle owner to decide were my car is repaired until Ashley (The owner) explained it to me. That was a huge help in making a decision. The work was nothing short of factory quality and done in just a few days! If you want an authentic, respectful company to handle your car, look no further than Columbus collision centers! Thank you again all! -Eric

Worked closely with me in unique times during the pandemic. I like that it's a female owned business in a Male dominated industry. Ashley (owner) and Amber (front desk) were great. Met Bryan who explained everything to me and was quite complimentary and knowledgeable. I made a great choice for my auto body repair need.

I recently took my 2017 C-Class Mercedes here and I LOVED the customer service I received. I worked with Ryan, who was not only super attractive, but he was so helpful and patient with me the entire time. Everyone there was nice but Ryan really stood out to me. He was so nice! And My vehicle came back immaculate, so clean and just like brand new. Ryan even got me a free detail!! Would definitely recommend this place.

Columbus Collision is a family owned business which we love to support . Had an accident and from the first phone call they were very compassionate and helpful through the whole process along with insurance , while being out of state . They made the the process very easy with no stress . They kept in communication and even did a pick up to our house . The car came out beautiful and looked brand new. I would recommend to all.

Positive: Professionalism, Punctuality, Quality, Value

Had a terrific experience with CCC. They picked up my car from the impound lot (due to an accident), got it to the shop and kept me informed throughout the repair process. Professional, courteous and they even cleaned and waxed it for me! It looked better than it's looked in years. Thanks so much.

Really nice people and helpful

Positive: Professionalism

Columbus Collision Centers was totally awesome! I hardly even talked to insurance or the rental company. Deborah was sorry super cool!

Positive: Professionalism, Punctuality, Quality, Value

Best Auto-body shop I've been to! Everyone is so nice and made me feel comfortable that my car was going to get fixed correctly (other body shops have painted my whole bumper a different color before so I was nervous) but Columbus Collision is absolutely amazing! My metallic silver car paint is hard to match but they did phenominal. You can't tell there was ever even a dent or scratch on my car. Stunning and perfect work and paint. They are professional and quick. Answered all the questions I had with a smile, and the FEMALE owner is incredible!! #girlpower and great service. You can't beat it! I highly recommend coming here.

I had some questions regarding a car I needed fixed. I had asked around and got good feed back about Columbus Collision Center. I made a call and spoke to "Ashley" and she was very knowledgeable and helped to provide the answers I was looking for. The customer service was amazing. Great job to everyone who works there. I highly recommend.

Great Experience! Kristin was extremely helpful, knowledgeable, and friendly! Ashley was also very helpful in answering any additional questions/ concerns! Everyone was friendly and helped me to save a lot of money with my repairs. I would recommend/ have recommended to several of my friends.

It was a pleasure working with Stephanie and Columbus Collision Centers. The work they did on my car looks amazing and the time it took them to complete the service work was very timely. I would highly recommend anyone take their vehicle to them and experience outstanding service like I did.

When your car has maintenance issues and needs any kind of attention, it creates so much stress and inconvenience until the problems fixed. BUT, even with a car full of defects and a frown on my face, Ryan, from Columbus collision centers knows how to turn my day around and get the job done, AND put a smile on my face too. We are so grateful for Ryan and the hard work he does, his customer service is impeccable and for that reason we will definitely be back to Columbus collision centers anytime our car has issues! Thanks Ryan!

I recently had my car detailed, and the work was flawless, and the customer service guy Ryan, real class act. Friendly, professional, and an unrivaled eagerness to help.

Top of the line body shop with a great atmosphere. Amber handled everything professionally. They worked on a GMC Acadia my wife has and we are definitely satisfied.

I overall had a great experience with this body shop. Amber was very nice she setup my car rental and always returned my call. Ashley was great she would answer any questions or concerns I may have, also had good chats with her as well. My repair turned out great, I couldn't ask for more.

Positive: Professionalism, Quality

I was rear ended the Saturday after my pops past . Debra helped me contacted the insurence company . Took care of everything for me . She was such a blessing in a hard time .

The staff of Columbus Collision Centers went out of their way to help my family and me after an automobile accident. The owner dealt with my insurance company and made sure they were being fair. She also set up a rental car for us during the duration of time my car was being repaired. The work on the car was top-notch. We highly recommend this company to anyone looking for body work on their automobile.

Amber was a blessing through my whole experience! She kept me informed and was always on top of things. My car was towed there for free...sat for a week and a half while we tried to figure out insurance issues...then when it was finished sat for another 4 days before I could pick it up....they did not charge me storage. I must admit I was skeptical at first but soooo glad I chose Columbus Collision Center! My car had less than 3,000 miles on it and looks brand new again!

Columbus Collision Centers did the repairs on my 2017 Infiniti G35. My experience with them was superb. First the customer service, Amber was talking me through the entire way of the repairs. She was very friendly, and even talked to the other individuals insurance company for me so that I didn't have too. If I didn't have another individual helping me with my vehicle the way she did I don't know what I would have done. Also Ashley the owner of the shop was also very great. She let me get to know her on somewhat of a personal level so that I was more comfortable in letting them fixing my vehicle. She let me know that she recently had taken full ownership of the shop from her fiance? or boyfriend? And I have to say she is doing a fantastic job. And than finally, the repairs of my vehicle. The color matched completely, and I got my car back in the exact way I purchased it. I will now be bringing all my vehicles there in the future, god forbid anything else happens, and I will deffinitally be suggesting this place for my family and friends! Thanks Columbus Collision Centers!

Phenomenal people and business. Work was amazing and on time. The best customer service I have ever experienced!

Great and helpful place, made the whole scary process so easy for me! Especially Ryan, great help.

First time at the shop. I will definitely return. The place had an almost family-type atmosphere. The shop owner, Ashley, patiently and painstakingly walked me through the entire process of dealing with the insurance company and through the various steps of the body repair process. Just when I thought the experience couldn't be better, they relinquished my car back to me. The work they did was AWESOME! The body guys made it look exactly like it looked on the showroom floor. The paint job may actually be better! CCC made what could've been an awful experience just another daily one. I will return and highly recommend the place to anyone needing any type of body work.

I want to thank you all for the great job you did on my car. I can't even tell it was wrecked. Customer service was awesome. Theresa went above and beyond to help me. I highly recommend them.

Positive: Professionalism, Punctuality, Quality

Debra helped me through everything and I my 2019 Jeep was delivered on time and it looked brand new, again.

We were greeted promptly. Also, they were very friendly, courteous, and professional.

One of the best auto body shops around. Amazing customer service with regular updates and everyone in the body shop is experienced in their trade. I took my care here for a repair and will continue to take it back for regular maintenance. Thanks Columbus Collision!

Great customer service, great communication and great work. I will be back if I ever get into another crash! Thanks team!

Stephanie provided 5 star service from the first call with the insurance setting up my rental with enterprise during the entire process of my collision repair. Outstanding Professionalism throughout call.I was very satisfied with the repairs that was done on my 2018 Hyundai Elantra looks brand new again. Thanks a bunch would recommend them to anyone.

I recently wrecked my mother in laws car in Columbus... I heard about columbus collision center... I worked w a guy named ryan in customer service who was a HUGGEEE help! Kudos! He got me a rental car the same day!!! Had the car back In 3 weeks looking brand new!

I had already had my car at another preferred shop.I received a call from Amber who explained to me what they would do and that I didn't have to use a preferred shop. She was clearly on my side and not the insurances side. They went and picked my car up from the currant shop and took back to their shop where my car was considered a total loss. Made it very easy for me to go and clean out my car and sign a release to the insurance. I will definitely remember their outstanding service and will use them in the future...

My car looks great thank you every time i called they had answers and as soon as they received my check from my insurance company they got my car done very quick!!! My car looks good as new

I brought my Mercedes here a month ago .From first contact..customer service fantastic. Clear concise communication and the actual work and repair to my vehicle superior. Highly recommend this business !

Did an awesome job! They helped me through the whole claim process and my car looks great. Thanks!

Great Experience! Great work on my Vehicle! Excellent Customer Service with Ryan and Amber. A+++